Andreea Constantin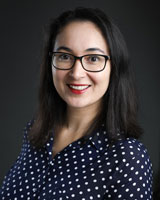 Bio
Dr Andreea Constantin is a postdoctoral research fellow within the CEPAR Organisations and the Mature Workforce stream. She received her PhD degree in Economics and Social Sciences from The University of Cologne, Germany. She has two master degrees in Social Policy Analysis, Statistics and Advanced Sociological Research from the Catholic University Leuven and the University of Bucharest respectively. Andreea is also teaching several units on research methods, statistics, qualitative and quantitative analysis and human resource management.
Research Interests
Andreea Constantin's main research interests are work-life balance policies, mature workers, outside-work care, gender roles within and outside organisations. She has contributed to analysing links between social policies and individual behavior and attitudes, and to testing and developing cross-cultural comparative survey measures. Andreea's research interests also include big data, survey methodology, cross-cultural studies, etc.
Selected publications
2019
Journal Article
Wright C, Knox A, and Constantin V (2019) Using or abusing? Scrutinising employer demand for temporary sponsored skilled migrants in the Australian hospitality industry Economic and Industrial Democracy, Published online: 11 June 2019. [More Information]
2018
Book Chapter
Baird M, Westcott M, and Constantin V (2018) Changing Terrain: Defining the Contemporary Workplace and Workforce in Australia The Big Issues in Employment, HR management and Employment Relations in Australasia (2nd edition); Wolters Kluwer, Auckland, 23-50.
2016
Journal Article
Voicu M, and Constantin V (2016) Couple's Status on Labour Market and their Attitudes towards Gender Roles Revista de Cercetare si Interventie Sociala, 54, 5-22.
2015
Report
Wright C, and Constantin V (2015) An analysis of employers use of temporary skilled visas in Australia.
2014
Book Chapter
Voicu M, and Constantin A (2014) Attitudes towards gender roles in Europe: modernization and social institutions Value Contrasts and Consensus in Present-Day Europe: Painting Europe's Moral Landscapes; Brill, Leiden, Netherlands, 311-328. [More Information]
2012
Journal Article
Constantin A (2012) Gender Beliefs Measurement. How a Slightly Different Wording of the Same Question Changes the Story Social Change Review, 10 (1), 37-46. [More Information]
Book Chapter
Voicu M, and Constantin A (2012) Religious revival in Romania: Between cohort replacement and contextual changes Transformations of Religiosity: Religion and Religiosity in Eastern Europe 1989 - 2010; VS Verlag fur Sozialwissenschaften, Wiesbaden, 155-174. [More Information]
Recent Units Taught
BUSS4603 Marketing Honours B

WORK2205 HR Strategies and Processes