Andrew Grant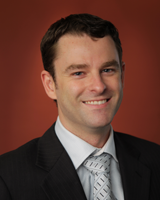 B MathFin (Hons) W'gong ; PhD Sydney
Senior Lecturer
Rm 507
H69 - Codrington Building
The University of Sydney
NSW 2006 Australia
Bio
Andrew is a senior lecturer in the Discipline of Finance. His main areas of expertise are behavioural finance, individual investor decision making, and betting markets, focusing on preference and belief-based asset allocation and asset pricing decisions, including developing models of asset allocation and optimal investor behaviour in betting markets. Other broad dimensions of his research explore the interaction of individual investors with financial institutions, and how their behaviour may be predicted based on numerical scores or past performance, and what anchors drive individual investors to the marketplace. He has also been engaged with industry, with studies of alternative finance and marketplace lending in the Asia-Pacific.
Andrew is also an elected member of the Business School's alumni executive committee, helping to organise events and engage with local and international alumni, connecting current students with former students. He has supervised a number of research students and received multiple awards for teaching. He has appeared as a guest commentator in print, radio, and on television, discussing issues such as gambling market and banking regulation, personal savings and asset allocation model evaluation.
Research Interests
Andrew's research covers a wide range of topics, mainly based around individual behaviour in financial and betting markets. In financial markets, he has analysed the behaviour of financial analysts in generating trading volume for their firm using optimistic forecasts or recommendations. He has also explored the impact of divorce on portfolio choice and trading behaviour by individuals and studied the role of anchors and nudges as behavioural finance drivers of individual investor decision making, such as whether individual investors respond to reminders to pay off credit card bills or are more likely to sell stocks based on salient prices (such as the 52-week high). He has also explored what drives individual investors to be successful in personal loan applications, beyond the information contained in their credit score.
In betting markets, he has developed a portfolio approach to fixed-odds betting on simultaneous events (using exotic wagers and the Kelly Criterion) and provided a thorough analysis of the different types of bookmakers operating in the marketplace. His diverse range of interests stem from a background in decision analysis techniques, including expert forecast combination and forecast evaluation using probabilistic and economic scoring rules. Other approaches to preference-based decision making in markets arise from the use of expected utility and non-expected utility, including prospect theory and multivariate utility functions, which allow for more descriptive but realistic understanding of the underpinnings of financial behaviour.
Selected publications
2019
Journal Articles
Grant A, Johnstone D, and Kwon O (2019) A Probability Scoring Rule for Simultaneous Events Decision Analysis, In Press.
Grant A, Johnstone D, and Kwon O (2019) The cost of capital in a prediction market International Journal of Forecasting, 35 (1), 313-320. [More Information]
2018
Journal Articles
Grant A, Oikonomidis A, Bruce A, and Johnson J (2018) New entry, strategic diversity and efficiency in soccer betting markets: the creation and suppression of arbitrage opportunities European Journal of Finance, 24 (18), 1799-1816. [More Information]
Prasad N, Grant A, and Kim S (2018) Time varying volatility indices and their determinants: Evidence from developed and emerging stock markets International Review of Financial Analysis, 60, 115-126. [More Information]
2017
Journal Article
Reza Bradrania M, Grant A, Westerholm P, and Wu W (2017) Fool's mate: What does CHESS tell us about individual investor trading performance? Accounting and Finance, 57 (4), 981-1017. [More Information]
2016
Journal Article
Grant A, and Satchell S (2016) Theoretical decompositions of the cross-sectional dispersion of stock returns Quantitative Finance, 16 (2), 169-180. [More Information]
Report
Zhang B, Deer L, Wardrop R, Grant A, Garvey K, Thorp S, Ziegler T, Ying K, Xinwei Z, Huang Y, Gray Y, Akhtar S, Anthonisz S, and et al (2016) Harnessing Potential: The Asia-Pacific Alternative Finance Benchmarking Report; KPMG, Sydney, 18-93.
2015
Journal Article
Grant A, Jarnecic E, and Su M (2015) Asymmetric effects of sell-side analyst optimism and broker market share by clientele Journal of Financial Markets, 24, 49-65. [More Information]
2013
Journal Article
He W, Grant A, and Fabre J (2013) Economic value of analyst recommendations in Australia: An application of the Black-Litterman asset allocation model Accounting and Finance, 53 (2), 441-470. [More Information]
Book Chapter
Grant A (2013) Betting on Simultaneous Events and Accumulator Gambles The Oxford Handbook of The Economics of Gambling; Oxford University Press, New York, USA, 341-369.
2012
Journal Article
Buchen P, and Grant A (2012) A Comparison of Simultaneous Kelly Betting Strategies The Journal of Gambling Business and Economics, 6 (2), 1-28.
2010
Journal Article
Grant A, and Johnstone D (2010) Finding profitable forecast combinations using probability scoring rules International Journal of Forecasting, 26 (3), 498-510. [More Information]
2008
Journal Article
Grant A, Johnstone D, and Kwon O (2008) Optimal Betting Strategies for Simultaneous Games Decision Analysis, 5 (1), 10-18. [More Information]
2006
Conference Proceeding
Grant A, Johnstone D, and Kwon O (2006) Optimal betting strategies for simultaneous games Accounting and Finance Association of Australia and New Zealand Conference (AFAANZ) 2006; John Wiley & Sons, online.
Selected grants
2018 - 2021
2018 - 2019
2018 - 2019
2018
2018
2016 - 2017
2015-2016
2014-2015
2014
2013-2016
Recent Units Taught
FINC3023 Behavioural Finance

FINC5001 Capital Markets and Corporate Finance

FINC6001 Intermediate Corporate Finance

FINC6013 International Business Finance

FINC6016 Financial Instruments and Markets

FINC6022 Behavioural Finance
Videos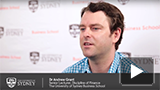 Will online alternative financing replace the banks? Dr Andrew Grant discusses the first comprehensive study of the sector in the Asia-Pacific region. Part 1 of 2.
1:44 mins Play video Watch on YouTube
---