Anna Young-Ferris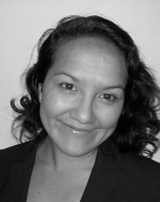 Bio
Dr. Anna Young-Ferris is an established academic who works to raise consciousness in business and education, through forums such as responsible investment, corporate sustainability, integrated reporting and responsible management education. She is a sustainability and carbon accounting specialist bringing more than 15 years of academic (research and lecturing) and corporate experience.
After becoming disillusioned with the state of sustainability reporting in the corporate sector Anna joined academia in 2010 to pursue her research in the field with a focus on institutional investors and a more conscious capitalism. Her award-winning PhD study examined the integration of environmental, social and corporate governance (ESG) accounting information in mainstream investment decisions and she continues to focus and publish her research in the field of institutional investment and business sustainability. She has presented her research work at numerous international settings including Harvard University, the London School of Economics and HEC Paris.
At the same time, Anna has spent two decades practicing meditation and has recently qualified as a Vedic meditation teacher. Her longer-term research program seeks to study the effects of meditation and raising consciousness as part of investment decision making.
Anna lectures in the areas of conscious capitalism; corporate sustainability accounting and integrated reporting; carbon accounting; responsible investment; and management accounting. She is an academic advisor for the UN Principles for Responsible Management Education; the leader of the UN-supported Principles for Responsible Investment Australasia Academic Network; a founding member of the Australian Business Leaders Reporting Forum for Integrated Reporting; a technical consultant for One Stone Advisors and has convened a number of research forums.
Previously, she was a climate change and sustainability management consultant at Ernst & Young. Anna graduated with Honours in Economics, her thesis examined Triple Bottom Line accounting.
Selected publications
2016
Book Chapter
Young A, and O'Halloran L (2016) Responsible Investment in Australia The Routledge Handbook of Responsible Investment; Routledge, Abingdon, 149-165.
2013
Journal Article
Hartmann F, Perego P, and Young A (2013) Carbon Accounting: Challenges for Research in Management Control and Performance Measurement Abacus, 49 (4), 539-563. [More Information]
2012
Conference Proceedings
Young A (2012) What the models cannot see: Integrating environmental, social and governance information in investment Interdisciplinary Perspectives on Accounting Conference IPA 2012; Cardiff Business School, Cardiff, United Kingdom.
Young A (2012) Materiality for whom: responsible investment and the societal function of listed equities PRI-CBERN Academic Network Conference 2012- Evolution of Responsible Investment: Navigating Complexity; CBERN, Toronto, Canada.
2011
Journal Article
Young A (2011) Article Review of Burritt.R, and Schaltegger.S (2009) "Sustainability accounting and reporting: fad or trend?" (Accounting, Auditing & Accountability Journal) Social and Environmental Accountability Journal, 31 (2), 168-169. [More Information]
Conference Proceedings
Young A (2011) The propositions of the United Nations Principles for Responsible Investment: enrolling and mobilising interest Global Management Accounting Research Symposium: Emerging Scholars Forum, Sydney, Australia.
Young A (2011) Model behaviour: integrating environmental, social and corporate governance information 4th Annual Academic Conference on RI/PRI Dynamics of Responsible Investment - "Research Meets Practice"; Sustainable Investment Research Platform, Sweden.
Young A, Roberts J, and Boedker C (2011) The art of valuation: Translating environment, social and governance information Oikos Third Annual Young Scholars Finance Academy 2011:The Future of Responsible Investment.
Report
Young A, and et al V (2011) The perspectives of Australian stakeholders on the business case for Integrated Reporting; Society for Knowledge Economics, Sydney, 1-17.
2010
Journal Article
Young A (2010) Greenhouse gas accounting: global problem, national policy, local fugitives Sustainability Accounting, Management and Policy Journal, 1 (1), 89-95.
Seminar Paper
Young A, and Boedker C (2010) The art of valuation: translating social, environmental and governance information Centre for Social and Environmental Accounting Research Conference CSEAR10; Centre for Social and Environmental Accounting Research, St Andrews, UK.
Report
Young A, and et al V (2010) Landscape Review - Australia: An overview of the regulations, standards and frameworks in place in Australia of relevance to integrated reporting and the implications for the integrated reporting framework; Australian Business Foundation.
Recent Units Taught
ACCT2012 Management Accounting A