Mike Seymour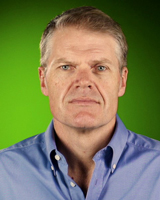 Bio
Mike Seymour has a B Sc. focused on CGI and Pure Maths from the University of Sydney where he also did his Masters (MBA) and he is currently doing his PhD. His research is into using interactive realtime photoreal faces in new forms of Human Computer Interfaces (CHI). Mike has worked for many years in the visual effects area of the entertainment industry, in R&D and in film production, winning an AFI and being nominated for a Prime time Emmy in the USA. He has worked as a compositor, vfx supervisor and second unit director on various TV shows here and in the UK. He is also well known for his work as a writer, consultant and educator with the web sites fxguide.com and fxphd.com. These sites provide an important link between the film and vfx community and the research community who constantly push the limits of technology. Mike has lectured and presented at NAB, ACM SIGGRAPH, CVMP and SMPTE. He regularly can be heard on the company's own podcasts, as well as having contributed to Warner Bros., Paramount, News Corp, the BBC (radio) and WIRED Magazine (- over 70 times). Mike is based in Sydney, but has previously worked in Hollywood and London.
Mike does research into the use of photo real, realtime, computer generated faces for new forms of effective communication and education, and the issues that need to be resolved for adoption and acceptance.
Newsroom articles
Vox

Vox (US) interviewed Mike Seymour from the University of Sydney Business School about dead celebrity holograms.
Thesis working title
Exploration of the next generation of human-computer interaction using interactive photo-realistic facial avatars
Key to the area of Human Computer Interaction (HCI) is the nature of computer interaction itself. Given the most common and often preferred form of human communication is face to face, it is perhaps surprising how little published research has been done on providing an emotionally engaging and effective HCI that uses a digital representation of a real human face. Yet this area is primed to expand extremely rapidly in adoption in coming years, with cognitive conversational agents and this could change the way we interact with computers.
Supervisor: Kai Riemer, Judy Kay
Selected publications
2018
Journal Article
Seymour M, Riemer K, and Kay J (2018) Actors, Avatars and Agents: Potentials and Implications of Natural Face Technology for the Creation of Realistic Visual Presence Journal of the Association for Information Systems, 19 (10), 953-981. [More Information]
2017
Conference Proceedings
Seymour M, Evans C, and Libreri K (2017) Meet mike: Epic avatars ACM SIGGRAPH 2017 VR Village - International Conference on Computer Graphics and Interactive Techniques, SIGGRAPH 2017; Association for Computing Machinery (ACM), New York, NY, USA. [More Information]
Seymour M, Riemer K, and Kay J (2017) Interactive Realistic Digital Avatars - Revisiting the Uncanny Valley 50th Hawaii International Conference on System Sciences 2017; University of Hawaii at Manoa | Shidler College of Business, Manoa, Hawaii. [More Information]
2016
Journal Article
Sagar M, Seymour M, and Henderson A (2016) Creating Connection with Autonomous Facial Animation Communications of the ACM, 59 (12), 82-91. [More Information]
Conference Proceedings
Kang S, Feng A, Seymour M, and Shapiro A (2016) Study comparing video-based characters and 3D-based characters on mobile devices for chat The 9th International Conference on Motion in Games (MIG 2016); Association for Computing Machinery (ACM), New York. [More Information]
Kang S, Feng A, Seymour M, and Shapiro A (2016) Smart Mobile Virtual Characters: Video Characters vs. Animated Characters 4th International Conference on Human Agent Interaction (HAI 2016); Association for Computing Machinery (ACM), New York. [More Information]
Seymour M, and Coyle S (2016) Towards a research agenda for adopting Agile Project Management in Creative Industries The 11th International Research Workshop on Information Technology Project Management (IRWITPM 2016); Association for Information Systems (AIS), Dublin.
Seymour M, and Hafermalz E (2016) Hello Computer: Towards a Research Agenda for Conceptualising "Presence" in Human-Computer Engagement The 27th Australasian Conference on Information Systems (ACIS 2016); Australasian Association for Information Systems (AAIS), Wollongong.
Recent Units Taught
INFS1000 Digital Business Innovation

INFS1020 Digital Work Environments

INFS2040 Project Management Foundations