Ravi Seethamraju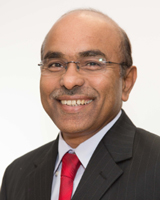 BTech (Mech) JNTU; M IndEng NITIE; GradDip Ad Ed UTS ; PhD W.Syd
Associate Professor
Rm 342
H69 - Codrington Building
The University of Sydney
NSW 2006 Australia
Bio
Ravi's research is multi-disciplinary and industry-relevant. It explores the evolving relationships between IT-enabled innovations and performance. He works in two particular areas, the first exploring how these innovations are effectively adopted and used in organizations, supply chains, health care, public distribution and education. The second examines the role of these innovations in improving students' learning experiences, skills and 'work-readiness'. His research was published in several leading international journals including Information Systems Frontiers, Australian Accounting Review, Business Process Management Journal, Engineering Management Journal, Assessment and Evaluation in Higher Education, Management Review and others. Ravi's research was funded by national grants, university/school grants and large Australian teaching and learning research grants.
Ravi teaches accounting systems and management accounting in the discipline and earlier taught process management, enterprise systems, operations management to undergraduate, post graduate, MBA and executive MBA students at the University of Western Sydney, Macquarie Graduate School of Management and Queensland University of Technology. He led the introduction of several curriculum design initiatives and teaching and learning innovations.
Before moving into academe Ravi had 9 years of management consulting and training experience and still maintains a strong engagement with industry and practitioners. He is regularly invited to train visiting senior executives from Chinese industry on enterprise systems and process management. He served in the Supply Chain Council ANZ board as its chairperson and board member for a number years and now serving as an invited member in the Education committee for the Association for Information Systems, APICS Supply Chain Council Research committee and member of the governing council of a higher education institution.
He is currently working on three collaborative research projects – i) adaptation of information systems for sustainability performance management and reporting, ii) analysis of impact and implications of digital disruption in public health and public distribution systems in India, and iii) comparative effects of culture on information load and honesty in managerial reporting. Ravi won Sydney University Business School teaching excellence award, Kit Dampney prize for information systems teaching and research excellence and three best research paper awards in international conferences.
He currently serves as a chair person for the business school ethics review committee and university academic board nominee. Ravi's service to the community include: Associate Editor and Track chair for several international conferences (International Conference on Information Systems (ICIS), ACIS, PACIS, HICSS); Regional editor for the International Journal of Operations & Quantitative management, reviewer/associate editor for Information Systems Research, Information systems frontiers, BPM journal, Australian Accounting Review and Abacus.
Research Interests
Ravi's research is multi-disciplinary and industry-relevant, exploring the evolving relationships between Information Technology (IT) enabled innovations and performance. Employing cross-sectional field study, case study and experimental methodologies, he works in two particular streams of research. The first stream explores how these IT-enabled innovations can be effectively adopted and used in organisations, supply chains and healthcare. The second examines the role of IT tools in improving business students' learning experiences, skills and work-readiness.
Ravi's recent work 'design and adoption of a mobile-based IT solution for Tuberculosis (TB) treatment monitoring in India', undertaken jointly with the Digital Innovation Lab, Indian Institute of Management Bangalore was funded by the Centre for Digital Financial Inclusion (CDFI) and Australian Department of Foreign Affairs (DFAT) Australia India Council. Extending this work, Ravi is now investigating the access and adoption of digital technologies such as block chain, smart contracts and cashless payment systems in public health and public distribution domain in India. Outcomes of these projects inform the government policy makers and NGOs on the nature and extent of problems of inclusion at the bottom of pyramid.
Jointly with Indian Institute of Technology Madras India, Ravi is working on a project that analyses the antecedents and challenges in the adoption of analytics solutions in hospitals in India. Jointly with professors at the University of Stuttgart and University of Aschaffenburg, Germany, Ravi explores the comparative effects of culture on information load and honesty in managerial reporting using an experimental methodology.
Ravi's third project, in collaboration with Associate Prof Geoff Frost, analyses the adaptation of enterprise-wide accounting information systems for sustainability reporting and sustainability performance management in business organisations. Given the increasing importance of sustainability, this project offers insights into the state of practice and the evolving nature of information systems and reporting processes, and helps business organisations better prepare for future sustainability reporting regimes.
Ravi champions and promotes better integration of IT into elements of discipline curriculum, as well as experimenting with new forms of student-centred work integrated learning and blended learning. In collaboration with colleagues in the Discipline of Accounting, Ravi is currently studying the effectiveness of blended learning and work integrated learning.
Selected grants
2018 - 2020
2016
2014-2015
Recent Units Taught
ACCT2012 Management Accounting A

ACCT6014 Designing Accounting Systems

BUSS4001 Business Honours Research Methods

BUSS4102 Accounting Honours A