Wen Liu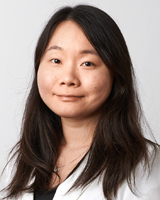 Bio
Wen Liu is a Senior Research Analyst in ITLS, Business School, at the University of Sydney, who specialises in software programming, online survey design and software user interface development for Web applications.
After completing a Master Degree of Information Technology in School of Information Technology at the University of Sydney, Wen joined the ITLS team in February 2009, working under the supervision of Emeritus Professor Peter Stopher. She has worked on projects in a range of household travel surveys where she has been responsible for testing GPS devices, data processing and developing software for identifying trips, vehicle occupancy, travel mode and travel purpose from GPS travel survey data.
More recently, Wen has completed a number of travel surveys for discrete choice modelling studies including toll saturation, contract transaction, bus disruption, and crowding on trains. Wen is currently working on the front-end user interface for MetroScan, a land use, transport and environment strategy simulator and metropolitan infrastructure scanning tool, with Dr. Chinh Ho and Dr. Richard Ellison in a team led by Professor David Hensher. The research tool is of particular relevance to public transport assessment.
Wen also has had experience working in survey industry as a Data Analyst/Consultant in Insync Survey Pty Ltd in 2011-12. She has designed surveys, administered Internet surveys, undertaken data analysis and reporting for local government research projects and stakeholder surveys.
Selected publications
2017
Journal Articles
Ma L, Mulley C, and Liu W (2017) Social marketing and the built environment: What matters for travel behaviour change? Transportation, 44 (5), 1147-1167. [More Information]
Stopher P, Ahmed A, and Liu W (2017) Travel time budgets: new evidence from multi-year, multi-day data Transportation, 44 (5), 1069-1082. [More Information]
2016
Journal Article
Hensher D, Ho C, and Liu W (2016) How much is too much for tolled road users: Toll saturation and the implications for car commuting value of travel time savings? Transportation Research Part A, 94, 604-621. [More Information]
2015
Journal Articles
Moutou C, Longden T, Stopher P, and Liu W (2015) The Challenges and Opportunities of In-Depth Analysis of Multi-day and Multi-year Data Journal of Transport Economics and Policy, 49 (4), 579-602.
Stopher P, Shen L, Liu W, and Ahmed A (2015) The Challenge of Obtaining Ground Truth for GPS Processing Transportation Research Procedia, 11, 206-217. [More Information]
Selected grants
2017-2021
2016-2020
MetroScan-TI; Artemis High Performance Computing (HPC) Grand Challenge Scheme (Deputy Vice-Chancellor Research).